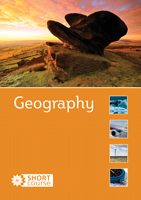 What is it?
The Geography Short Course has been authored by the Geographical Association.
The course comprises a series of challenges, covering topics such as Physical Processes; Food, Energy and Waste; and Tourism. It is about real places. Much of it uses the student as a starting point. It is about their place in the world – how they live in it, how it is changing for better and for worse and about their future in it. It will be about broadening their horizons so they get a sense of seeing the bigger picture through social, economic and environmental lenses.
The flexibility of ASDAN's Short Courses means they can be carried out in a variety of settings, over a time period to suit the individual or co-ordinating centre (up to 60 hours). Challenge descriptions can be interpreted and adapted according to the situation.
---
Who is it for?
Young people of all abilities, mainly aged between 13 and 19 (as well as adults and younger learners, where appropriate).
Because Short Courses are multi-level, the focus is on completing challenges and skills development according to individual ability, rather than attainment at a specific level.
Facts and Figures
Flexible, multi-level programme
Internally moderated
Accredits 10-60 hours of activities
Can count as up to three of the credits needed to achieve the Personal Development Programmes​
Requirements
Students present a portfolio of evidence of their activities. This portfolio will contain:
completed Geography Short Course book and evidence of challenges completed
planning and reviewing documents
record of progress
summary of achievement, identifying skills development
---
Student Book
The Short Course contains challenges across nine modules:
My Place
Food, Energy, Waste
Physical Processes
Sport and Leisure
Holidays
Global Interdependence
The

BRICS

Big Issues
Why do People Move?
Download sample pages from the Geography Short Course student book.
Tutor notes, including guidance for every challenge in the student book, are available for registered ASDAN centres to download for free from the Members Area.
Supporting Resources
A free set of downloadable tutor notes to support the Geography Short Course containing guidance for each challenge and suggested resources are available to centres registered for Short Courses in the members area.
A Quick Guide to Short Courses is also available to support the delivery of all ASDAN Short Courses. This document offers advice and guidance for tutors, including a step-by-step guide to delivery.
Additional resources to support Short Courses can be downloaded from theOrb – ASDAN's Online Resource Bank. Resources available include witness statements, activity logs, lesson plans, worksheets and examples of evidence.
Getting started
If you are not yet registered with ASDAN, your first step is to complete an Application for Centre Registration Form. See the Join section for more information. Current ASDAN centres need to ensure that the programme is added to their centre's registration.
Following registration, you will be able to purchase your books and access additional resources and guidance via the members area of asdan.org.uk. ASDAN also provides introductory workshops and can arrange in-house training.
---
Certification
After successful internal moderation, centres submit a list of candidates' names via the members area of asdan.org.uk and certificates are then issued by ASDAN.
The portfolios are not submitted for external moderation. ASDAN reserves the right to request samples of candidates' portfolios for quality assurance purposes.
Short Courses Online
This online platform offers an alternative way to access Short Courses without needing to purchase student books. Learners can upload evidence to their personal e-portfolio to demonstrate what they have done and the skills they have developed. Tutors moderate e-portfolios on screen and then request certification.
Get started with Short Courses Online.