Published:
Lifeskills Challenge helps prepare learners for employment
Steps with Theera is a coffee shop, café and vocational training centre in Bangkok for young adults with special educational needs. Max Simpson, Founder and Vocational Programme Coordinator, explains how ASDAN's programmes have been helping learners develop new skills and prepare for the world of work.
Our programme was designed to meet a need in terms of transition to employment in Bangkok and aims to support both Thai and international students to enter into sustainable and fulfilling employment.
Our trainees predominantly use Lifeskills Challenge as it offers an extensive bank of activities. It also enables us to create our own challenges which are specific not only to the programme we run, but to the individual employment dreams of our trainees. For example, we recently created a 'basic barista skills' challenge so our trainees can learn how to use the coffee machine in a step-by-step format, which is assessed before leading to a certificate for the learner. We also use a selection of the hospitality and catering, employability and IT challenges with a strong focus on work-based learning.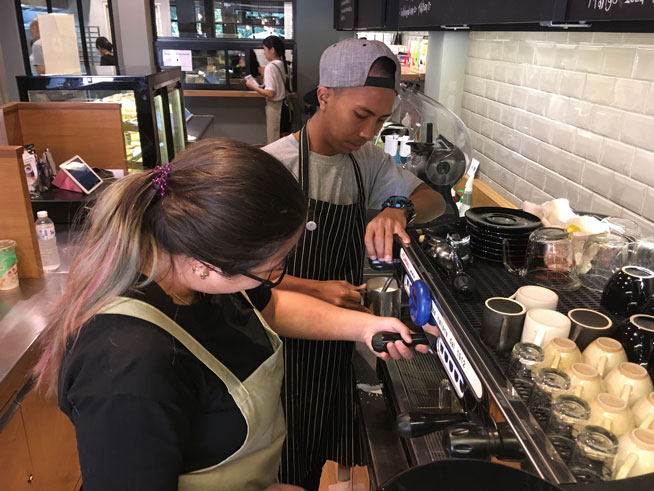 Our trainees really enjoy being in the coffee shop and learning through doing. They are a part of the community and now they attend 'work' as opposed to 'school'. We've seen a huge rise in their maturity and self-esteem. They are learning new skills all the time without even realising it and by having the opportunity to interact with such a wide range of people, they are not only building their confidence, but helping to change the perspectives of the world around us.
Our programme is different because it is set in a workplace that is open to the public. This in turn means there is a level of responsibility handed to our trainees as soon as they come in the door; they need to be presentable, approachable and ready for a variety of possibilities. Our trainees receive badges to attach to their aprons every time they achieve a personal goal or complete an activity in Lifeskills Challenge. This acts as a great conversation starter for customers. In addition, we have a trainee of the week where the individual receives a small monetary amount to recognise their hard work.
To facilitate progression for our learners after their time at Steps with Theera, we have connected with a range of companies that will employ our graduates. These employers are trained by us and the young person will be supported by our staff in the workplace until they are ready to be independent. We will continue to check in and provide support on an ongoing basis. Some of our trainees will stay and be employed at Steps.
We also use ASDAN's Towards Independence programme as it is accessible at a lower level yet often links in with Lifeskills Challenge.